Creating Systems Will Set You FREE!
By Michelle Yozzo Drake
Do you have systems in place within your business...or are you re-inventing the wheel everytime a task crosses your desk?
Every Fortune 500 company knows that in order to work consistently and efficiently to have breakout results, there need to be systems in place for all aspects of business operations. No one person can do everything all the time. Tasks need to be delegated, and with systems in place, team members know exactly what steps need to be taken to accomplish certain duties, so anyone who can follow the system and complete the task. Executives I've worked with do a lot with "process-mapping" to really understand how work gets done so they have the opportunity to improve steps within the process and ultimately get greater results.
We as small business owners can take this concept and apply it to our own organizations; in fact, it's even more critical that small businesses have systems because there are generally fewer people doing more! Having systems in place for other team members to follow means that the business will continue to move forward even when the person mainly responsible for the task is unavailable. Other team members can fill in and get it done!
(Article continues after the break)
*******************************************************************************************
Imagine having everything you need to start and grow your own successful business right at your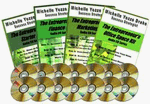 fingertips!



Michelle Yozzo Drake presents:
THE ENTREPRENEUR'S MASTER KIT

14 Audio CDs on topics ranging from business start-up to finance to marketing!



ORDER YOURS TODAY!
********************************************************************************************


I know for us at the Cove Group - and the clients I've helped in creating systems - it's made a huge difference. Systems help foster an environment where business owners can have more time to do the things they want to be doing. If there is a clear-cut system in place for ordering office supplies, for example, the owner can delegate this task to another member of the team instead of using his or her time when he or she can be doing something to bring in more revenue for the organization. Why would I spend my time doing payroll - and missing out on revenue generated during time when I could be with a client instead - when I could pay a bookkeeper a fraction of the cost to do it for me?

Systems also allow us to take time out and do things for ourselves. I've said it before and I'll say it again: being a small business owner is a 24/7 job, and sometimes even we need a break! At least once a week, you'll find me at home in my art studio. One of the things that brings me joy and that helps me stay on my A-game and think creatively is to paint. It's something that I do when I need a spark of creativity. So how can I take off in the middle of the day to paint, especially when I have deadlines, projects, products to create, clients to coach...? I can do it because we have SYSTEMS! Specific tasks are assigned to specific people so work moves forward constantly. I play a large creative role in my organization, and because I don't bring a whole lot of value into some of the more routine and repetitive tasks in my organization, I'm sheltered from that by the systems we have in place. Other people who are more suited to that kind of work follow the procedures outlined and the finished product is just as high quality as if I did it myself.

(Article continues after the break)


********************************************************************************************** Want more FREE advice on skyrocketing your career to the next level?

Sign up for Michelle's FREE e-zine "Lipstick Leadership" at LipstickLeadership.com!

Tips, tools, insights and inspiration - "Lipstick Leadership" has it all!

Don't miss your chance to get the power, prestige and prosperity YOU deserve!
*********************************************************************************************

I challenge you to sit down and focus on how your business works: what types of services you deliver? What do you do? What role do you play and what roles do each of your team members play? I think you'll find that there is an opportunity to create a process in nearly every aspect of a business, including payroll, hiring, the sales process, how you order inventory, how you create and execute products and services, etc. So create that system! It doesn't have to be complicated; in fact, the more simple the better. Draw it out as a flow chart and prioritize each aspect of the task. It may take some time now, but I guarantee it'll save you time (and a headache) in the future!

Next, think about the skill sets of each team member and match them up to the appropriate tasks. If the task falls in line with their strengths and there is a system in place, you can be assured that the task will get done - and get done right - every time.

Create the systems to set yourself free!


For more FREE tips on advancing your career and navigating the workplace, sign up for my FREE e-zine "Lipstick Leadership" at LipstickLeadership.com today! And check out the products I've developed to guide you toward the success you deserve!


"Strong reasons make strong actions." – William Shakespeare